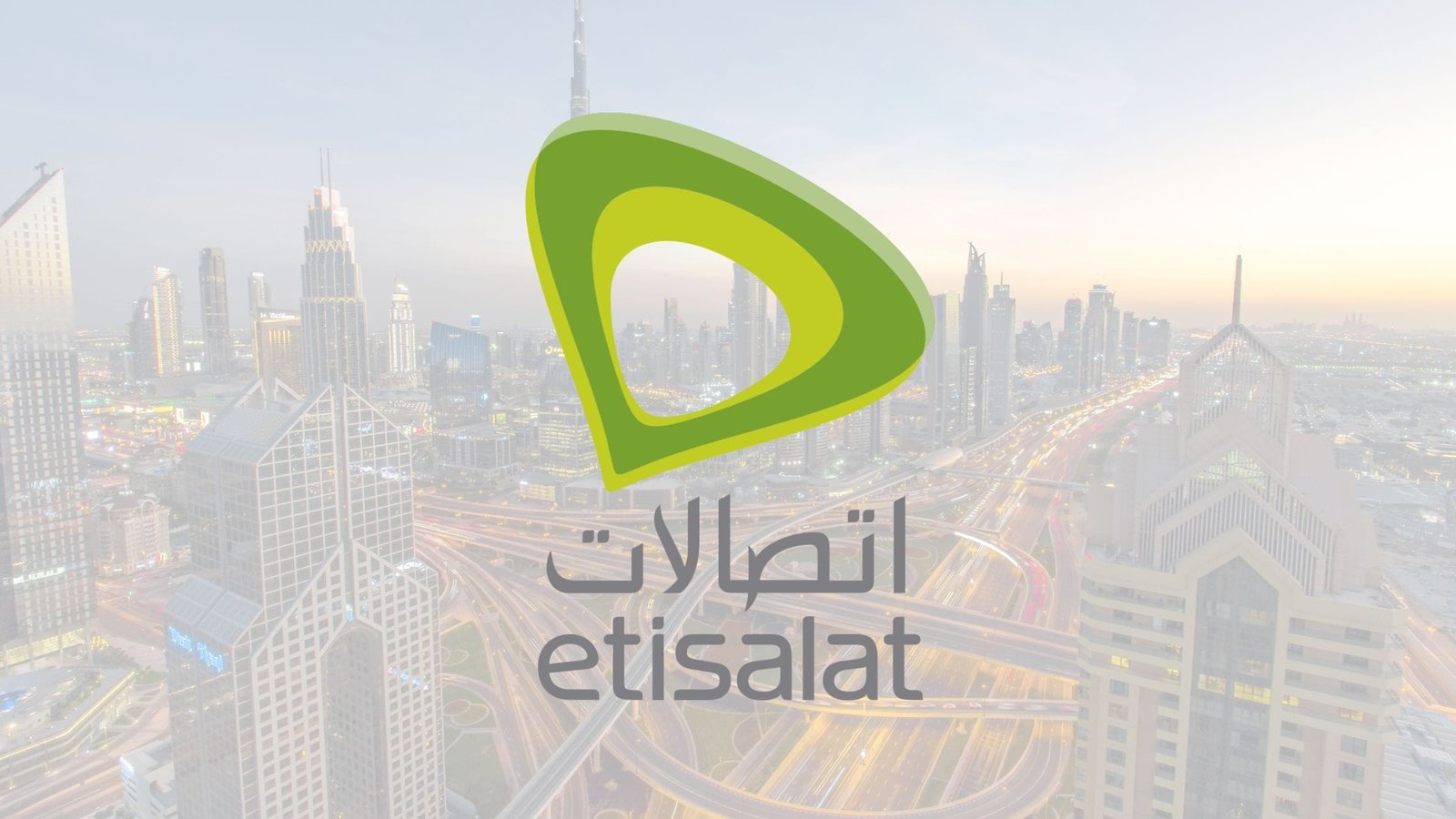 Etisalat Careers Recruitment 2023: List of Latest UAE Vacancies, Guide to Apply
Emirates Telecommunications Group Company PJSC, popularly known as Etisalat by e&, is a prominent Emirati-based multinational telecommunications services provider. Operating in 16 countries across Asia, the Middle East, and Africa, Etisalat is the 18th largest mobile network operator globally, boasting many subscribers.
Notably, in December 2020, Etisalat made headlines by claiming to offer the world's fastest 5G download speed, a staggering 9.1 Gigabits per second, and this revolutionary network started rolling out in Dubai as early as 2017.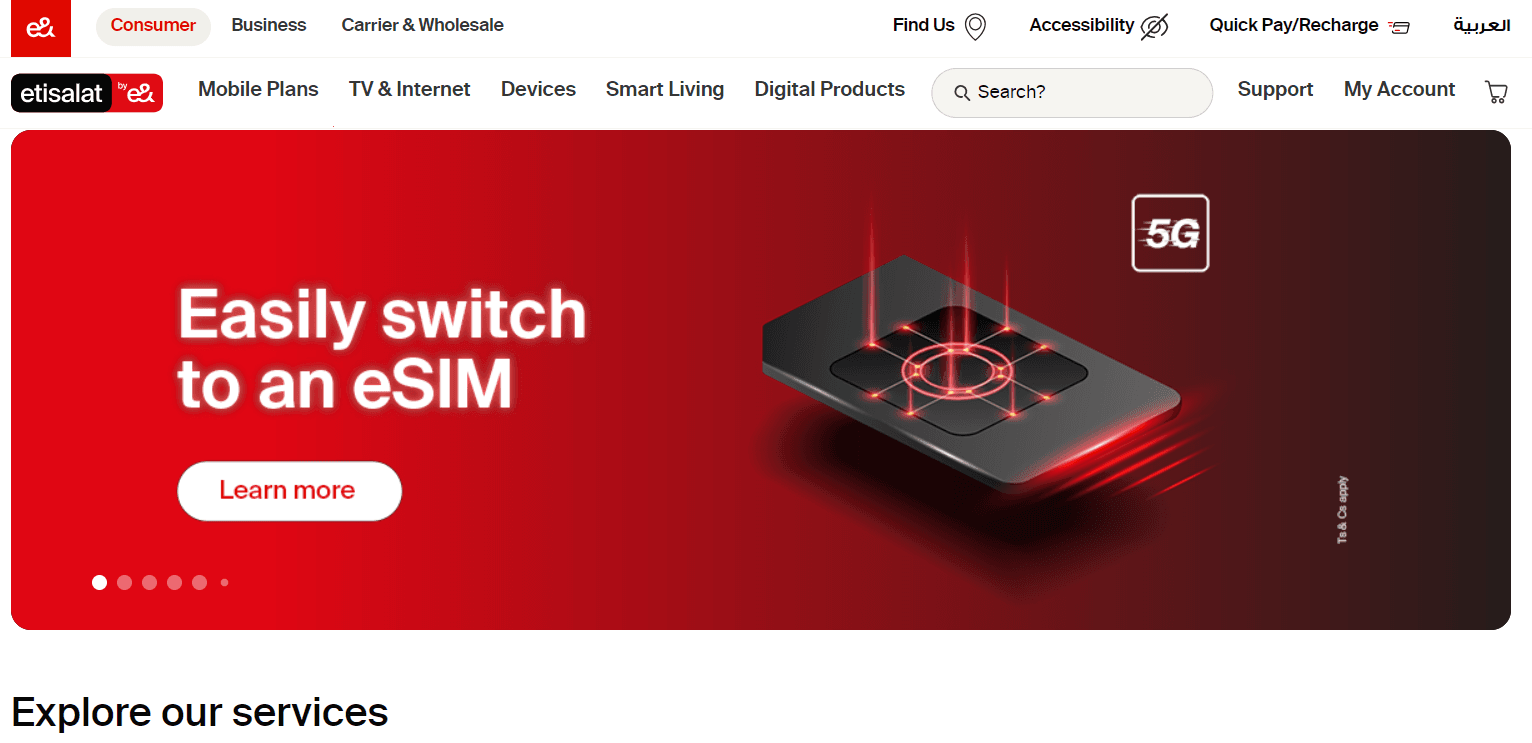 Etisalat is recognized as one of the most robust brands in the Middle East and Africa and is prominent among the world's top telecommunications brands.
Also, Read: Du Telecom Jobs In UAE 2023 – Complete Guide for Job Seekers – Direct Link to Apply
A Glimpse of Success
As of 31 December 2021, Etisalat reported consolidated revenue of AED 53.3 billion and net profits of AED 11.1 billion, showcasing its financial prowess. The company's total market capitalization currently stands at a staggering AED 329 billion, emphasizing its dominant presence in the market. In May 2023, Etisalat further strengthened its position by reporting revenue of AED 13 billion for Q1.
Embark on a Career with Etisalat
If you aspire to be a part of a dynamic and forward-thinking organization, Etisalat offers you a remarkable opportunity. Working with Etisalat means embracing the unexpected, celebrating diversity, recognizing individuals who stand out, and fostering an environment where individuals are encouraged to make significant contributions. Etisalat is dedicated to having engaged employees at the top of their game daily. The company understands the importance of nurturing its employees' personal and professional growth and offers a range of benefits catering to their needs.
Also, Read: Multiple job opportunities with Apple are now available in UAE
What sets Etisalat apart is its belief in talent without limitations. The organization actively supports alternate career paths within the company, allowing individuals to explore different roles and realize their full potential. As an employee, you will find yourself in an environment where your career is a priority.
Your Path to Success
Etisalat is deeply invested in your career. The company offers extensive training programs and learning opportunities. These programs are available in person and online to help you reach your full potential and accelerate your career journey. With the right tools and support, Etisalat is dedicated to ensuring you grow in your role.
How to Apply
The application process is straightforward if you are excited about joining the Etisalat family. Candidates can apply through LinkedIn using the "Easy Apply" feature on the official Etisalat page. You can find the latest job openings and opportunities by visiting the Etisalat LinkedIn page. Here, you will discover details about job descriptions, key responsibilities, qualifications, and requirements.
Once you have identified a position that aligns with your skills and aspirations, apply through LinkedIn. After you have submitted your application, be patient and wait for the HR department's response via email. Etisalat values its applicants and aims for a smooth and efficient application process.
If you need any assistance or have specific queries regarding the application process, you can contact the HR Helpdesk at +971 2 618 4700.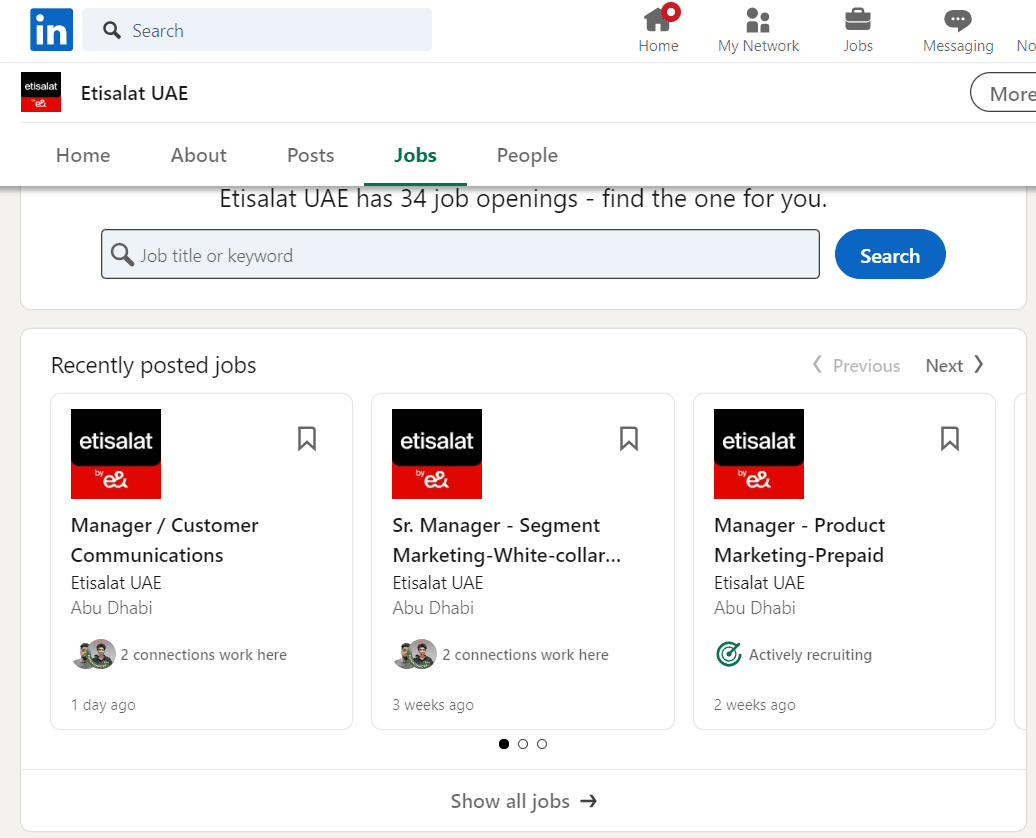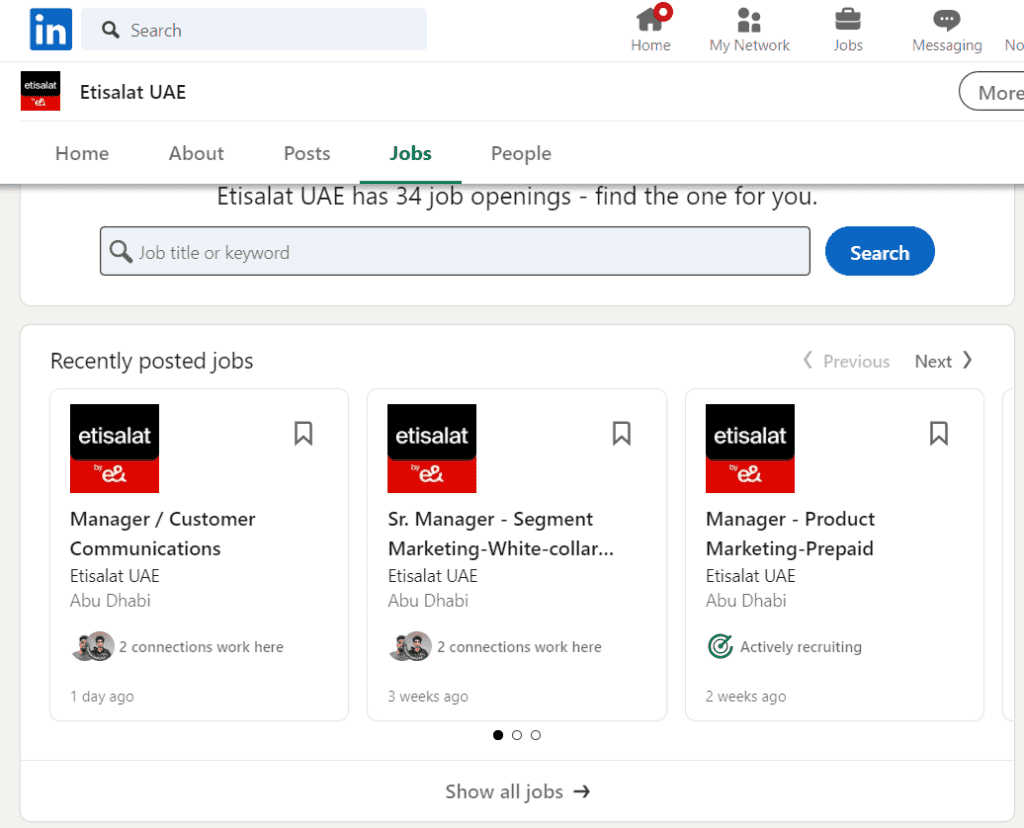 Etisalat Headquarters
Etisalat's headquarters are in Abu Dhabi, United Arab Emirates, a city known for its dynamic business environment and cultural diversity. This strategic location places Etisalat at the heart of the action in the Middle East, allowing it to be at the forefront of innovation and growth.
Also, Read: Emaar Group Jobs In Dubai UAE Careers 2023
References
For more information about Etisalat and the career opportunities it offers, you can visit the following resources:
FAQs
1. How do I apply for a job at Etisalat?
You can apply for a job at Etisalat by visiting their official LinkedIn page and using the "Easy Apply" feature. Follow the provided guidelines and wait for the HR department's response via email.
2. What makes Etisalat a unique employer?
Etisalat is known for its commitment to fostering talent without limitations, offering a wide range of benefits, and providing employees with extensive training and learning opportunities.
3. Where is Etisalat headquartered?
Etisalat's headquarters are located in Abu Dhabi, United Arab Emirates.
4. How can I reach the HR Helpdesk at Etisalat?
You can contact the HR Helpdesk at +971 2 618 4700 for any assistance or inquiries related to job applications.
5. Where can I find more information about Etisalat and its career opportunities?
You can explore the official Etisalat website, Wikipedia, Twitter, LinkedIn, and the Etisalat Careers page for detailed information about the company and its job openings.