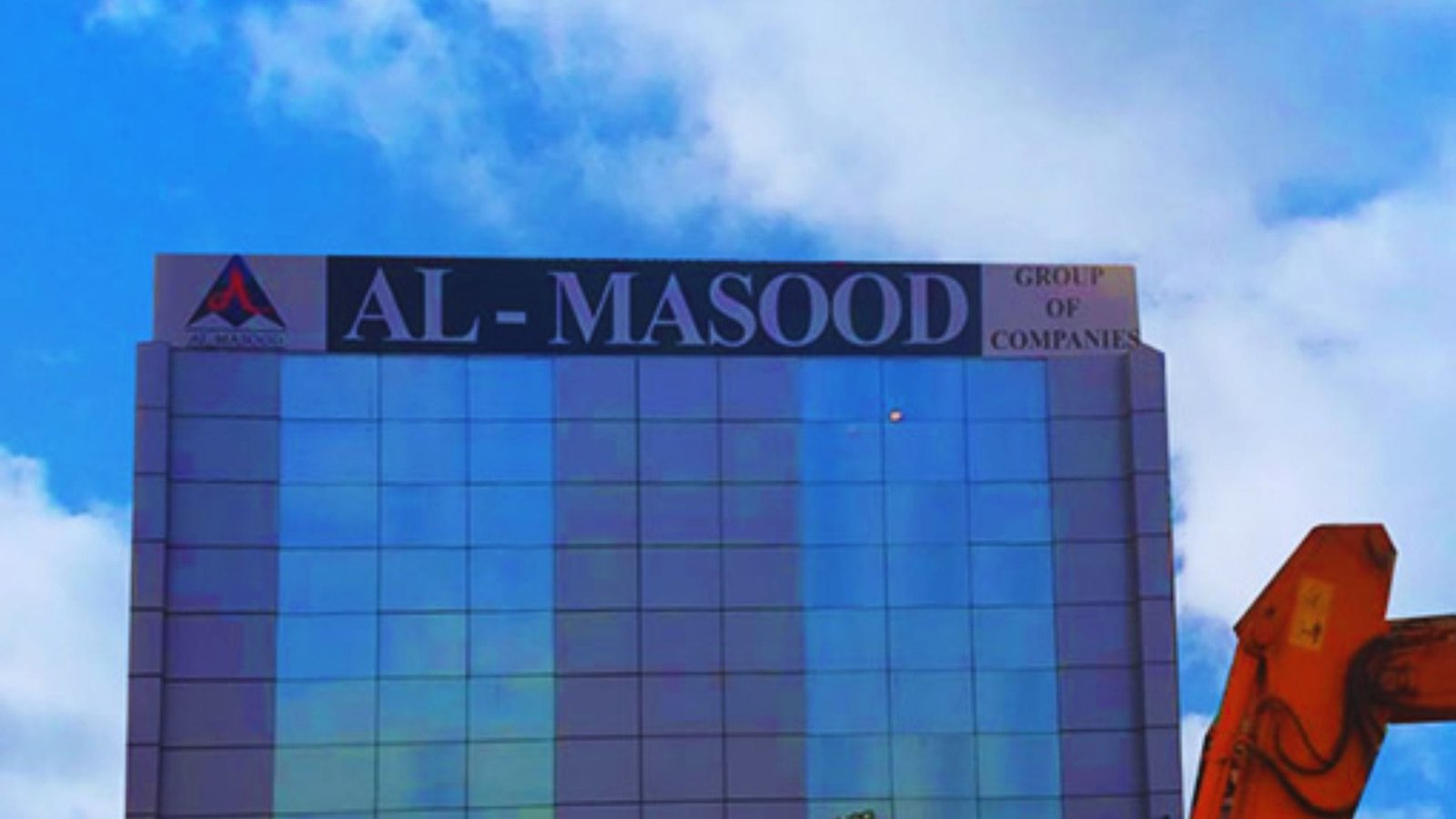 Al Masaood Group Careers in UAE: Latest Vacancies and Guide How to Apply
Are you seeking a career in one of the most iconic and diversified business groups in the UAE? Al Masaood Group, synonymous with excellence and innovation, offers many career opportunities. Established as the first registered company by the Abu Dhabi Chamber of Commerce, Al Masaood has a rich history of contributing to the economic development of Abu Dhabi and the UAE.
In this article, we will explore Al Masaood Group's history, current involvement in the automotive industry, and how you can become a part of this prestigious organization.
Introduction to Al Masaood Group
The Pioneering Spirit
Al Masaood Group holds a unique place in the history of the UAE. It was the first company to be registered by the Abu Dhabi Chamber of Commerce, signifying its pivotal role in the commercial development of the emirate.
Also, Read: Golden Opportunities Await: McDonald's
Over the years, Al Masaood has mirrored the government's development path, contributing key 'firsts' to the nation. Notably, it delivered the UAE's first gas turbine and developed its first desalination plant. The group's legacy is deeply intertwined with the growth of Abu Dhabi.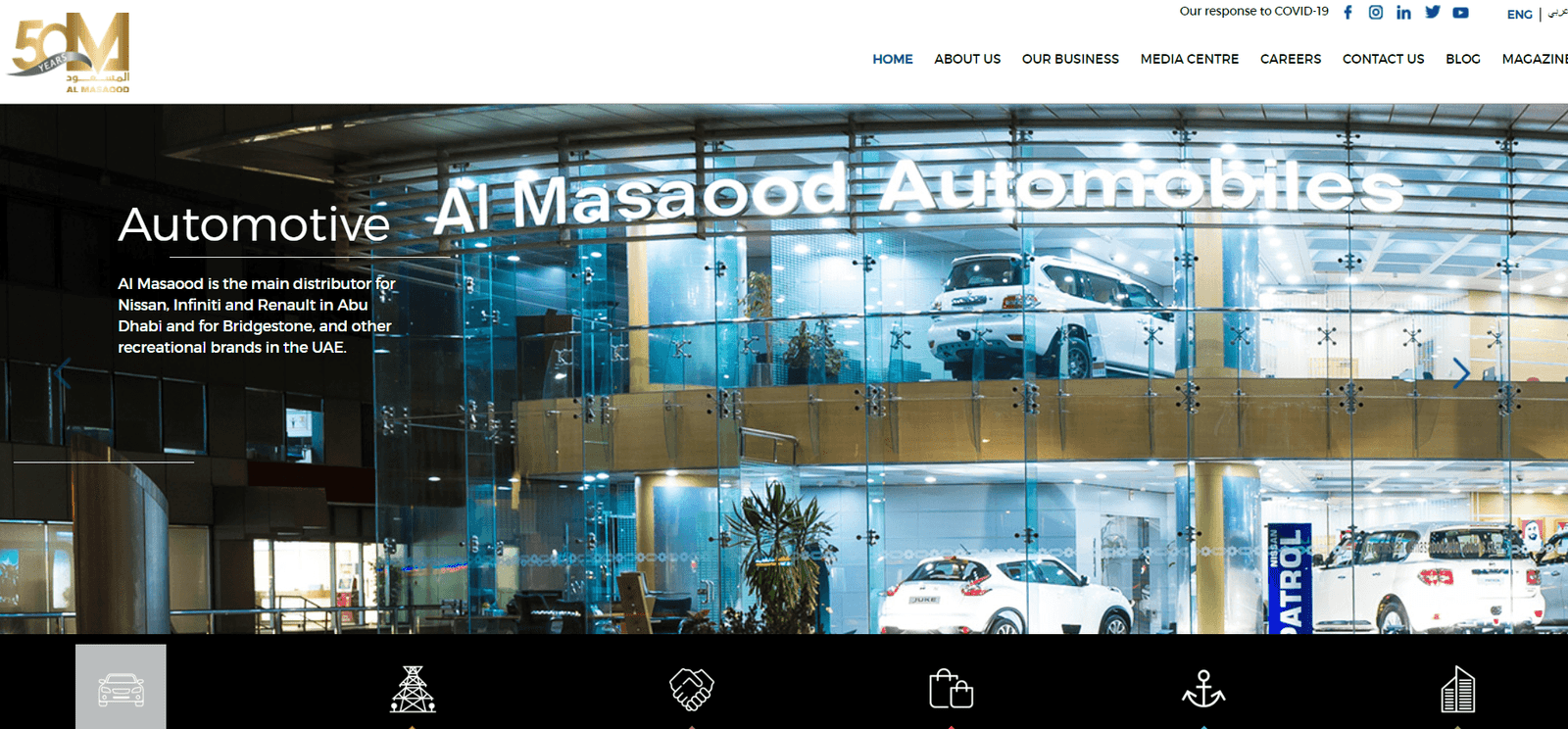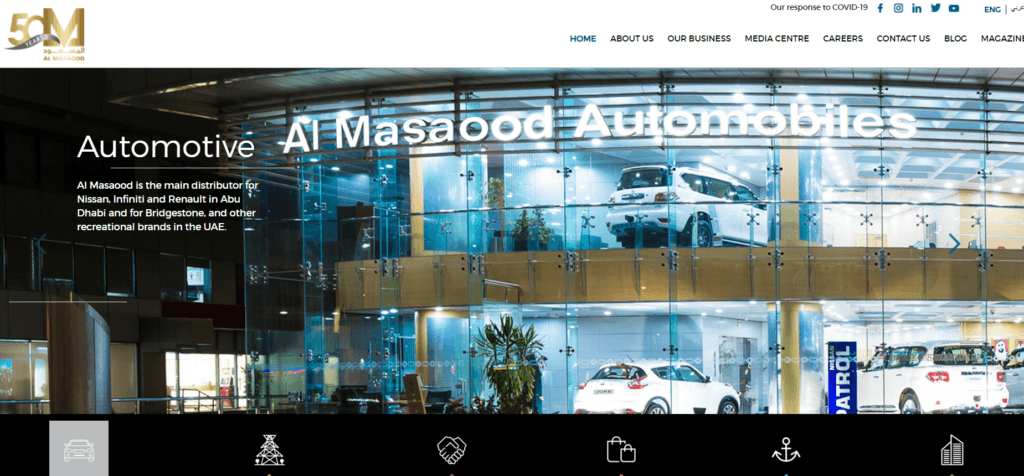 Key Milestones
To better understand the significance of Al Masaood Group, let's delve into some key milestones:
First Gas Turbine: Al Masaood's historic achievement of delivering the UAE's first gas turbine marked a crucial moment in the nation's industrial progress.
Desalination Plant: The group's contribution to the development of the UAE included building the first desalination plant, ensuring a sustainable source of fresh water for the emirate.
Al Masaood Group in the Automotive Industry
Iconic Brands
For over 40 years, Al Masaood has been a prominent player in the UAE's automotive market. It is the leading distributor for iconic automotive brands, including Nissan, Infiniti, Renault, and Bridgestone. These brands are synonymous with quality, innovation, and performance.
Service Excellence
One of the hallmarks of Al Masaood's automotive division is its commitment to superior service standards. The group invests in highly trained staff and continually enhances its showroom and service facilities. This dedication ensures not only client satisfaction but also fosters long-term relationships with customers.
Al Masaood Automobiles Nissan Service Centre
An exceptional addition to Al Masaood's automotive business is the Al Masaood Automobiles Nissan Service Centre. This service center is Nissan's most extensive worldwide, underlining Al Masaood's commitment to providing world-class customer service.
Working at Al Masaood: A Gateway to Success
The Al Masaood Culture
Al Masaood Group is more than a business entity; it's a home for inspired minds shaping the future. The company actively seeks talented and creative individuals who can contribute to its diverse and dynamic group of companies. With partnerships with iconic brands like Nissan, Infiniti, Renault, Harley Davidson, Bridgestone, Volvo Penta, and John Brown, Al Masaood is at the forefront of innovation and technology.
Embracing Innovation
Al Masaood Group is moving into a new future where bright minds and creativity can embrace technology and innovation to succeed. As a part of this organization, you'll have the opportunity to work with cutting-edge technologies and be a part of groundbreaking projects.
Internships at Al Masaood
Nurturing Future Talent
Al Masaood Group firmly believes in offering learning opportunities for eager undergraduates. These internships, spanning two months, are designed to prepare students for their employment journey. By participating in one of the participating departments, interns gain valuable experience and skills that can kickstart their careers.
Duration and Departments
The internships at Al Masaood cover a wide range of departments, including:
Human Resources (HR)
Information Technology (IT)
Legal
Finance
Customer Services
Sales & Marketing
Engineering
Each department offers a unique learning experience, allowing interns to explore their interests and talents.
How to Apply for Internships
If you're eager to embark on your professional journey with Al Masaood, all you need to do is send your CV and an accompanying cover letter to [email protected]. Your application will be considered for the next available internship opportunity in your chosen department.
Latest Job Opportunities at Al Masaood
Exploring Current Job Openings
If you're seeking immediate employment opportunities at Al Masaood, you can start by visiting the official Al Masaood LinkedIn page. There, you can navigate to the jobs section, where a list of available job roles awaits your exploration.
How to Apply for Al Masaood Jobs
Once you've identified a job role that aligns with your skills and career aspirations, you can read all the details and apply through the "Easy Apply" method. Al Masaood Group strives to make the application process seamless, ensuring that you have a smooth experience when applying for a position.
Contact Information
Address
Should you need to get in touch with Al Masaood Group or visit their premises, their address is as follows:
AL MASAOOD LLC
PO BOX 322
FATIMA BINT MUBARAK STREET
ABU DHABI, UNITED ARAB EMIRATES.
Phone and Email
For inquiries and communication, you can contact Al Masaood Group through the following:
Official Website
For comprehensive information about Al Masaood Group and its various businesses, you can visit the official website at https://www.masaood.com/en.
Conclusion
In conclusion, Al Masaood Group offers many opportunities for budding talents and experienced professionals. With a rich history of pioneering achievements and a commitment to service excellence, Al Masaood is a dynamic and innovative organization. If you're looking to embark on a rewarding career journey or seeking immediate job opportunities, Al Masaood Group is a name you can trust. Embrace the future with one of the most iconic business groups in the UAE.