Landmark Announces Vacancies in UAE: Know How to Apply
Landmark Group, a retail giant that began its journey with a single store in Bahrain in 1973, has now expanded to include an impressive portfolio of 43 brands, boasting over 2200 stores across 21 countries in the Middle East, North Africa, India, and steadily growing in South East Asia. The Landmark Group is on a mission to deliver exceptional value through various regional brands across multiple categories.
In the Middle East, the group takes pride in 18 brands, with 8 of them being homegrown brands that offer customers the convenience of omnichannel shopping.
Also, Read: How Google News Helps Job Seekers in the UAE
Exploring the Landmark Group's Brand Portfolio
Fashion Brands:
The Landmark Group has a strong presence in fashion retail, featuring prominent brands like Centrepoint and Max Fashion.
Home Brands:
Home Centre and Home Box cater to those looking for quality home products.
Electronics Retail:
Emax, a trusted name for electronics, is part of the Landmark Group's offerings.
Oasis Malls:
Providing a delightful shopping experience in the region, Oasis Malls are an integral part of the Landmark Group.
Centrepoint:
This flagship brand houses four of Landmark Group's owned brands, namely Splash, Babyshop, Shoemart, and Lifestyle, all of which have become category leaders in their own right.
Online Fashion:
In 2019, the Landmark Group introduced Styli, its first online-only fashion brand, available in the UAE, KSA, Bahrain, and Kuwait.
Food Discounters:
Viva, the food discount brand, has over 50 stores today in the UAE.
Hospitality Brands:
The Landmark Group also ventures into the hospitality sector with brands like Fitness First, Citymax Hotels, Fun City, Zafran, and Carluccio's, among many others.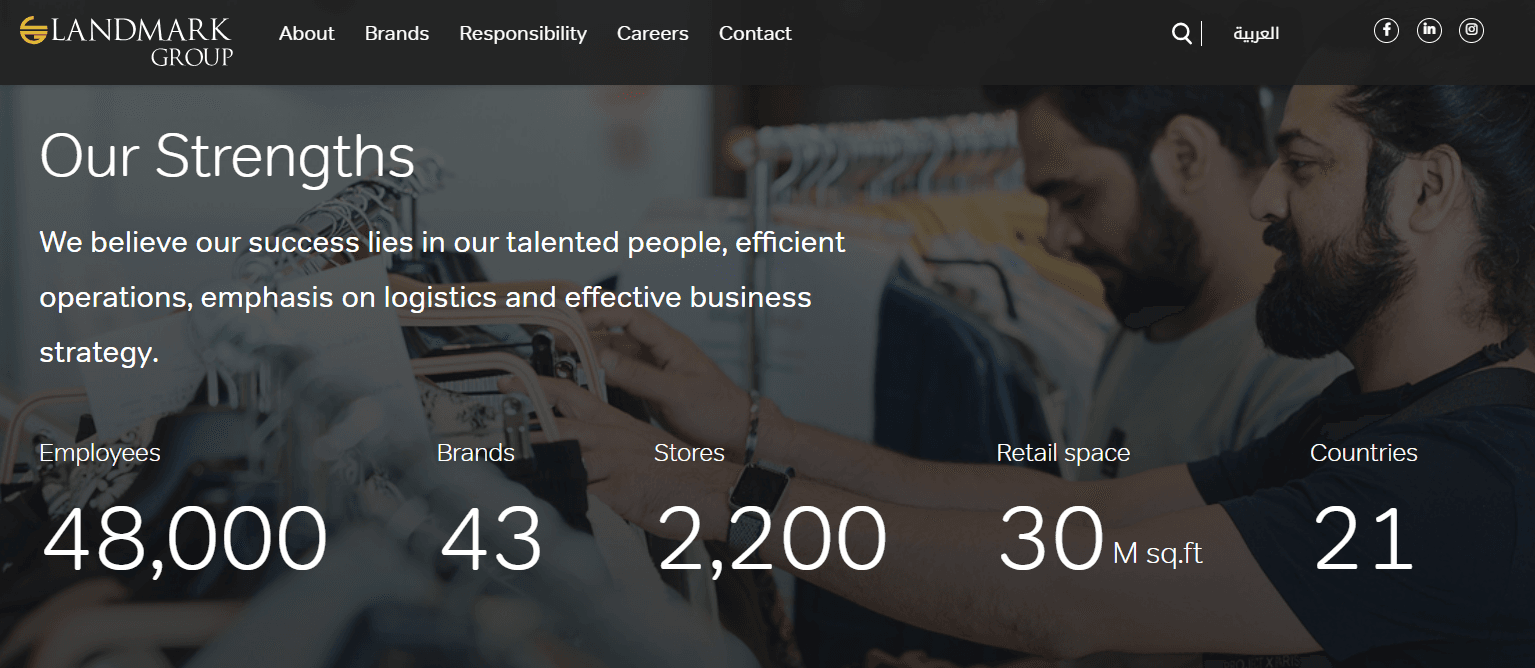 A Career at Landmark Group
If you're seeking a fulfilling career, the Landmark Group always seeks new talent to strengthen their team. Here are some compelling reasons to consider working with them:
Happiness: At Landmark, your talent will be nurtured, and your well-being will be a priority.
Growth: The company encourages you to expand your boundaries and learn from everyone around you.
Learning: Landmark Group believes in constantly refining skillsets and aims to innovate daily.
Work-life Balance: They understand the importance of a healthy balance between work and play.
Diversity: The team at Landmark Group is a melting pot of different cultures and distinctive skills.
Equality: Everyone is welcome on their team and gets an equal opportunity to succeed.
How to Apply at Landmark Group
If you're excited about the prospect of joining Landmark Group, here's how you can apply:
Visit the official career portal:
Choose your preferred country and select a job that suits your qualifications and interests.
Read all the job details carefully to ensure you're a good fit for the role.
Apply for the position by creating an account on the career portal.
After applying, patiently wait for a response. The Landmark Group will contact you if you are selected for the position.
Landmark Careers on LinkedIn Page
Another convenient way to apply for the latest Landmark Group careers is through their LinkedIn page. They announce all job openings on this platform, making it easy to use. Check out the job section on their LinkedIn page here.
Contact Information
Global Headquarters
Phone:

+971-4517 4000 (9 am to 6 pm – Monday to Friday)
+971-4517 4001/4003 (8 am to 8 pm – Monday to Sunday)

Address: Landmark Group Landmark Tower, Dubai Marina, P.O. Box 25030
Conclusion
With its extensive brand portfolio and commitment to fostering a vibrant work environment, Landmark Group presents a fantastic opportunity for individuals seeking a fulfilling career.
Also, Read: Emirates National Oil Company (ENOC) Job Vacancy
Their dedication to diversity, equality, and personal growth makes them an ideal choice for those looking to do their life's best work.
FAQs
Is Landmark Group a global company?
Yes, Landmark Group operates in 21 countries across the Middle East, North Africa, India, and South East Asia.
How many brands are a part of the Landmark Group's portfolio?
The Landmark Group boasts a portfolio of 43 brands.
Where can I find job listings at Landmark Group?
You can find job listings on their official career portal, categorized by retail and hospitality positions.
What is the mission of the Landmark Group?
The mission of Landmark Group is to provide exceptional value through a diverse array of regional brands across various categories.
What makes Landmark Group an attractive employer?
Landmark Group offers a supportive and diverse work environment, emphasizing happiness, growth, learning, work-life balance, and equality for all employees.
References